Instagram is booming and a lot of users would like to enhance their influence on this platform. And now if you are stuck in the problem of "what to post on Instagram", then this article is a good reference for you.
1. User Generated Content
User Generated Content(UGC) has a 4.5% higher conversion rate than brand-generated content on Instagram. You can run a campaign, let's say, a contest to encourage your followers to create wonderful content around a specific topic that you launch. Getting around this by offering giveaways or discounts and that will help you build momentum for your campaign. But remember not to be too restrictive with the content you ask.
Funny memes are popular on Instagram, as they are on most other platforms. You can repost memes from other accounts you like and get them credited. Or maybe you want to create your own memes with the photos you take. Actually, anyone can create their own memes and most meme generators are free. Thus making it a fun and easy way to create funny memes and share with the world. Meme Generator
People love to watch DIY videos, so if there's anything you can teach your followers, do not hesitate to share it! Your videos don't have to be high end; it can be anything and you just show the steps for your audience to follow.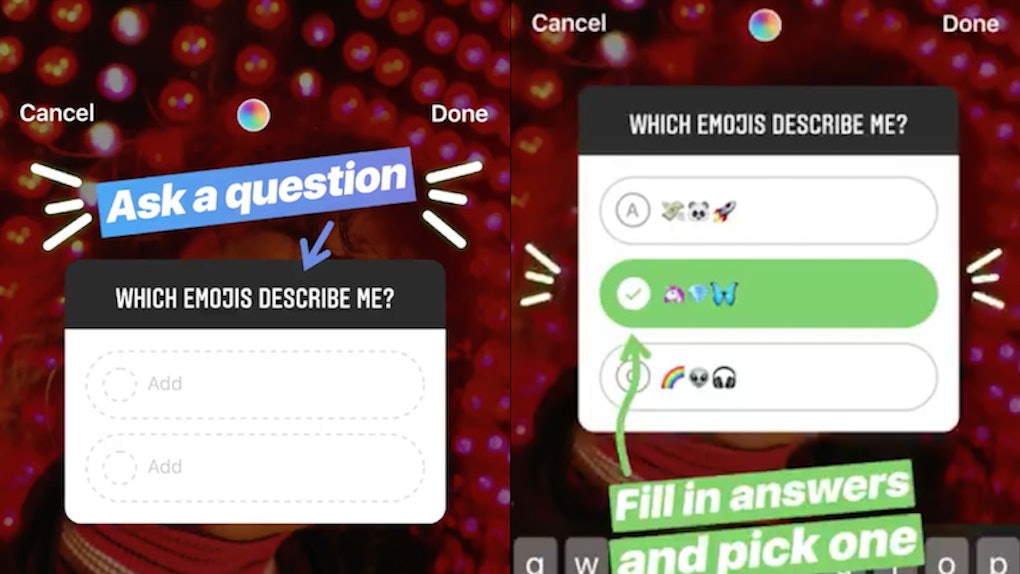 The new interactive Instagram Stories quiz sticker allows you to share multiple-choice questions with your followers and track the results.
Here's how to use quiz sticker:
Tap the quiz sticker button after you've taken a photo or video on the Instagram Stories camera;
Name your quiz and write your question and the choices as possible answers. The correct one will be highlighted green. To check out your quiz results, swipe up to open the viewers' list and here you see how many people respond to each option and what they choose.
The Behind The Scenes theme is an effective piece of content. They bring in a unique and extra human element to your Instagram marketing. Everyone would like to feel part of the people behind the business and it works for just every industry or topic. Revealing the hidden workings for your followers and they'll be interested. You can also go further by giving your followers the opportunity to contribute to your business. This will make them feel as though they are partly responsible for the outcome.
Besides, employee stories are another way to do this. Have one of your employees share a day in life and he doesn't have to be an influencer, and it can be powerful for bringing an otherwise mundane topic to life. A different perspective to draw followers in.